web design Palakkad – if web design is not just an art and if it is mainly aimed to increase business, sales and reputation through internet, infoSphere Web Technologies, Palakkad has definite way / method for web design. Making a website is easy for any web designer, but making a website to boost your business is not easy for any average web designer. Because, it should consider reach and perfection in viewport of various smart devices, which includes Smart Phones, Tablet PCs, iPODs etc. More than just view or appearance of websites through various smart devices, it should be readable without zooming and left and right scrolling. If these are the technical issues, we should not avoid while design a website, the major weight should be given to content itself. The website content, which includes Photos, Menus, Text or Paragraph, Buttons, forms, slides etc., must focus the business products or services that the website owner deal. In other words, in every elements of website should focus goal of the website.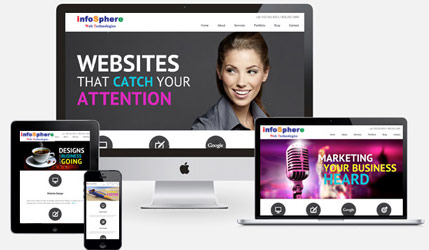 Palakkad : Scope in web design Palakkad
Palakkad is one of the strategic and growing city in Kerala, India. Palakkad opens large business opportunities since the city is under fast growing process. For the last few years, Palakkad attracts so many students, tourists, builders, industrialists etc. In each month, new startups and malls take the pace in Palakkad. The upcoming Coach Factory in Kanjikode (The industrial area in Palakkad), BEML, Widening of NH 47 etc. made Palakkad to develop fast. Big Malls like Big Bazaar, Joby's Mall etc. give new looks to Palakkad. Jwellers like Kalyan, Malabar Gold, Josco, Alukkas, Southern, Chemmanur, Pavizham, Bhima, Akshaya opened their main branches in Palakkad. Hotels like SreeChakra International, Fort Palace, Indraprastha, Gazala, KPM etc. express importance of Palakkad as commercial and tourism spot. Outdoor Catering industry in Palakkad is booming at fast pace. For example, Palakkad Top in Town & Ela Caters Palakkad etc. Palakkad Fort, Malampuzha Garden, Fantasy Park, Dhoni Waterfall, Kalpathy Ratholsavam are still attracts many global tourism. Thus in each day, new business and business opportunities are rising in Palakkad. It indicates demand of new websites and associated online promotions are increases in Palakkad. So, we have a hope in scope of web design palakkad.
Brief : infoSphere for web design Palakkad
As an extra edge in technology, infoSphere web technologies provide Techno Smart Web Design for ordinary website price. Presently, no other companies in Palakkad offer the same Techno Smart web design service as infoSphere.
Related Topics : Palakkad web design company, Web design Palakkad