Google Ad Services India is an online advertisement service designed by Google Inc. Though the service is directly accessible to the customer techniques like keyword research, Ad placement tactics and regular assessment are mandatory to have effective utilization of the service. Variety of Google Ad placement methods are available in Google Ad Services India like pay per click and pay per display etc. It is also necessary to analyze the keywords and determine and develop a strategy for placement of the advertisement.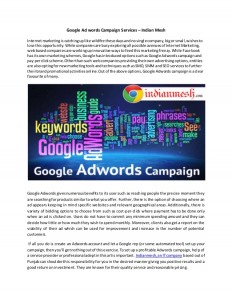 The experts of Infosphere web technologies will analyse the keywords and research the suitable locations where it will be ideal to place the  Google Ad Services India advertisement. The right combination of scheme, location and other parameter has to be planned wisely by the experts in the field.
The type and nature of Google Ad Service India package differs from case to case. The right combination of Google advertisement services India parameter selection and Google ad strategy planning ensures the most efficient utilization of the advertisement fund and result in saving the revenue on behalf of the customer. An expert can easily assess . Context sensitive advertisements designed by our veteran experts who have a very long experience in analyzing the keywords and determining the right media to place your Google ad words ensure your reach the most appropriate audience for the targeted keyword. We have a very long experience in analyzing the media and keyword research that are unique in nature. Industry specific search terms are easily researched by our Google Ad Experts very easily. Thus you get maximum value from your Google Ad services.