Google Ad Services India Packages is an online advertisement service designed by Infosphere in line with the strategies and practices of Google Inc. Though the service is directly accessible to the customer, techniques like keyword research, Ad placement strategies and regular assessment are mandatory to have effective utilization of the service. Variety of Google Ad Service India placement methods are available in Google Ad Services like pay per click and pay per display etc. It is also necessary to analyze the keywords and determine and develop a strategy for placement of the advertisement. Infosphere with their expertise in online Google Ad placements and organic SEO have packaged this service for effective and economically viable manner. These are the Packages:-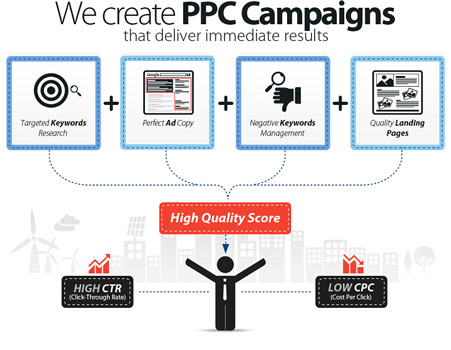 Google ad packages India starter Package cost
USD 630
Google ad packages applicable to entire India region is specially designed for start up projects in Google and online advertisements. The Google ad service India starter package is targeted to provide advertisements on desktop/laptop computer users. Minimum click guaranteed is 180 per month.
Google advertising packages India Value Package rate
USD 1130
One of the Google advertising packages, Value package India is targeting the small and medium organization who want to ensure their online presence in India as a whole but want to retain budget limits. The Google ad service value package India offers 324 clicks per month and target both desktop/laptop users and mobile/portable devices users simultaneously and with banner image display option.
Google Ad Service Packages India Standard Package Charges
USD 1600
Medium and large scale industries and business organization who intend to put their online advertisements across India with balance of budget and placement quantity simultaneously. The offer covers desktop/Laptop placement, Mobile/portable device placement and covers Youtube ad placement. Banner image display is also included in the Google Ad service India Standard package. The guaranteed no of clicks are around 460.
Google ad packages India Premium Package price
USD 2010
Premium package of Google Ad service is the maximum top quality service that can be adopted by establishments and brand for their online promotion in India. When blended with the high quality service by Infosphere you get the maximum output and result out of the campaign. Apart from desktop/laptop and mobile/portable device coverage the youtuble placement, banner image displays and even Apps are covered under this package. This is the best Google Ad service package in India which you can ever avail. We guarantee a minimum clicks of 576 of the package.
Google ad packages
The type and nature of Google Ad package India differs from case to case. The right combination of Google advertisement service India parameter selection and Google ad strategy planning ensures the most efficient utilization of the advertisement fund and result in saving the revenue on behalf of the customer. An expert can easily assess . Context sensitive advertisements designed by our veteran experts who have a very long experience in analyzing the keywords and determining the right media to place your Google ad words ensure your reach the most appropriate audience for the targeted keyword. We have a very long experience in analyzing the media and keyword research that are unique in nature. Industry specific search terms are easily researched by our Google Ad Experts very easily. Thus you get maximum value from your Google advertising packages.